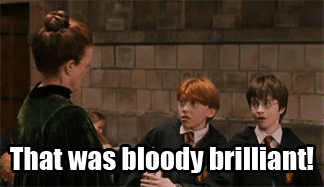 You guessed it, location #2 is Union Station!
Park on the WEST SIDE – 20th Street.
Oh No!
As of 5/22/19, Death Eaters have conspired to hide this clue! If you follow the instructions in your Pre-2019 OWL Ledger, you will fail!  But have no fear. Harry saw this coming, and planted alternate instructions for Union Station here.
Hello, Treasure Hunters! Answer this location question in your OWL Ledger, just like you did for the previous location:
First, find a spot to stand in front of Union Station, such as the fountain across the street. We know that Union Station, just like Hogwarts, was built with Indiana limestone and features copper gutters and downspouts. 😉 We don't know whether it has the same moving staircases, but feel free to have a look around in the Grand Hall!
Over time, the copper has changed color. In your OWL Ledger, write down the FIRST LETTER of the downspout's dominant color. 
Ok, you can return to answering the OWL Ledger questions as written now! Hopefully the Death Eaters won't Obliviate any more clues!
-Harry

Bathilda tells me that the first train pulled into Union Station in 1894. Soon, Union Station became one of the busiest passenger rail terminals in the world with more than 100,000 people moving through it daily- even busier than King's Cross Station!
According to the ghosts at Hogwarts (you know, some of them have really gotten around!) the building is an architectural wonder. It has a Grand Hall, a Whispering Arch and a Glass Block Floor. Here's five quick highlights of the building that Nearly Headless Nick sent me.
If you have time, check out the Grand Hall light show, which happens on the hour every day 10-5pm. Ron calls it "wicked!" (That boy really needs some work on his vocabulary.) During the Holiday Season, take a ride on the Polar Express, which departs from Union Station! Better than a trip to Hogsmeade!